So, in the pack of canvases I bought for the last craft, I used 4 of them for this project (again inspired from a post on pinterest).
I
Again, these are 16x20 canvases that I bought in a 5 pack for $20 at Michael's. My leaves are a bit smaller than in the original picture I saw, but honestly I like it this way better.
First, you'll start with some blank canvases. I took each section and drew the leaves and the trunk and each stem that was in that quadrant. Then I did the same for each of the other canvases.
The pencil is faint, but if you look hard enough, you can see it. Then either pick 2 different colors for two opposite corners or you could paint it all the same color- up to you. It is my advice to you to paint just outside the pencil so you can go back through and erase it, as some lighter paint colors won't cover up the pencil marks. With the grey paint this was unnecessary, but you can see some of the pencil marks under the yellow paint. I also did two coats, because one isn't quite enough. I used a small paint brush to paint around each leaf and stem so I wouldn't accidentally paint over one!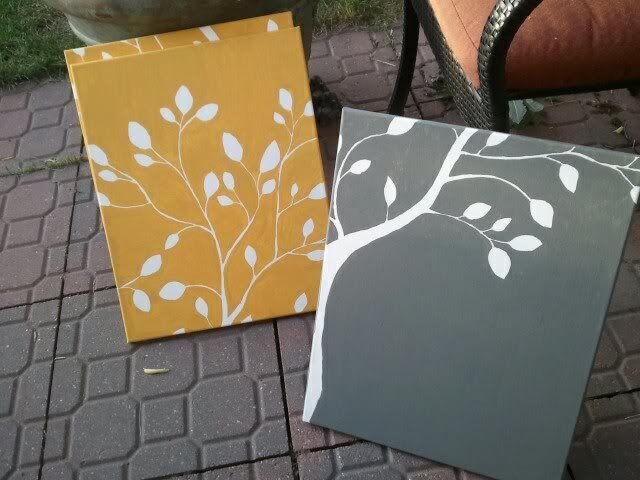 It doesn't matter if the lines aren't perfect, because no one will ever know! I also painted the edges of these so that no white was showing except for the tree itself. I painted them outside, which was a plus because the sun dried them very quickly! It took a few hours (despite a few distractions), but it was very well worth it! The finished project looks like this:
Posted on June 19th at 10:34 PM

blog comments powered by

Disqus