I love end tables. I have about 12 end tables and not enough space for them! But I found a pair of decent (kind-of) end tables for about $15 at a hospice (salvation army-type store). And they had lamps attached! What more could a college kid ask for? They were perfect. But they were boring. Brown and with that weird flaky covering, they weren't the most attractive tables out there. So at first, I just hot-glued a string of beads to the lampshade and called it good. But that wouldn't cut it for my crafty soul.
So, I bought some scrapbook paper that I thought would be just perfect. I couldn't decide just how I wanted the table top to look, and when I found this, I knew it was what I wanted. I decided on a script paper for the middle and a scroll type for the edges. I used mod podge to glue the handwriting paper to the table top. I didnt bother cutting this paper, since I would fashion the edges of the other paper to cover it evenly. I folded the border paper over the sides and glued that as well.
For the top piece, I had to cut it a little differently, because the lamp came up out of this space. But that was simple enough.
Then I decided that the brown base would not match the black top at all- So, I used some of the black spray paint I had and painted the bottom of the table. I put a few layers of mod podge over the top of the table to make sure everything was secured. It is recommended to add a layer of clear sealant over that so it isn't sticky later (Not anything I've really had a problem with, but its a good idea if it'll be used frequently in a living room- and probably still use a coaster). The finished product looked like this:
And that's how this table looked for a few years, until I was bored with the lampshade again. I thought I would buy a new one, but I found some silk fabric laying around the house and I was being lazy and didn't want to sew it, so I took a hot glue gun, bunched it all up and glued it to the shade.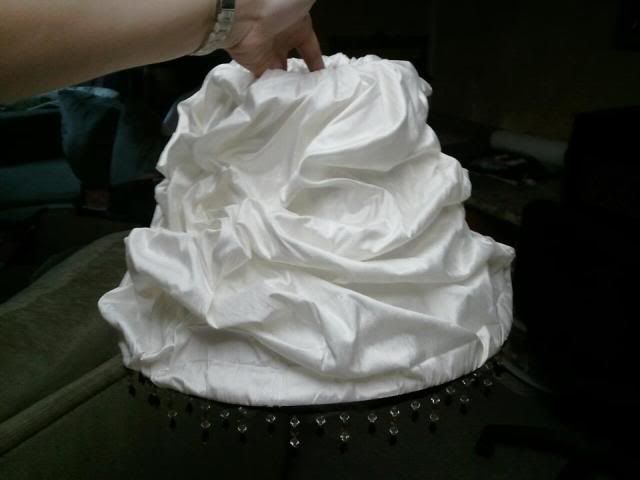 Then I saw a flower pattern on pinterest and searched the fabric cupboard until I found some black fabric. Then I searched my mom's button drawer for three buttons to be the center.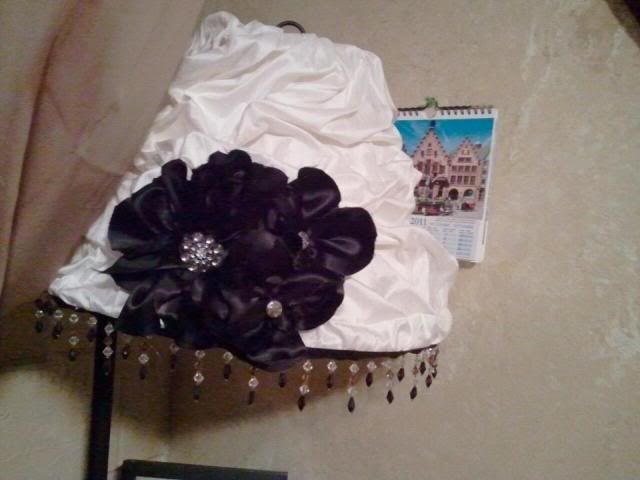 So there you have it! I didn't take pictures of the progress of this one for some reason, but i basically cut a circle of fabric in a scalloped pattern and then cut several smaller pieces in the same pattern. I layered them all together and hot glued them. Then hot glued them to the lampshade. Viola!
blog comments powered by

Disqus